Derubis DERUBIS Series 7 Monocoque / Yacht like a Caravan caravana nueva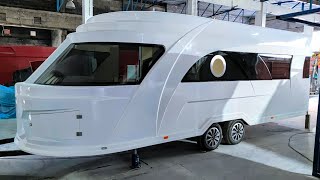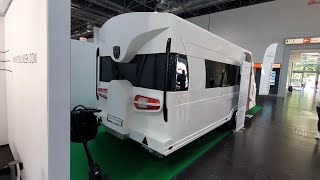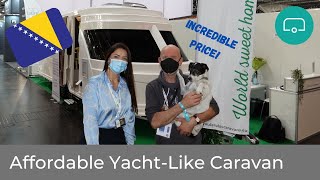 1/16
≈ 51.340 US$
≈ 199.200 PEN
Descripción
Dimensiones totales
8.7 m × 2.4 m × 2.65 m
Ejes
Tipo de neumático
185/65 R14
Equipamiento
Sistema extractor de aire
¿necesita envío?
Calcule el coste de la entrega
Equipo adicional
Ruedas de aleación ligera
Estado
Inspección técnica válida hasta
2025-01
Welcome to the new dimension of travel!
The ALBE Alliance GmbH, as the official general distributor of the DERUBIS brand, is pleased to present you the latest world novelty, the DERUBIS Series 7 caravan.Thanks to its unique yacht design with the highest quality workmanship and equipment, you will feel like you are in a yacht on wheels!
The luxurious, safe and comfortable caravan! With nearly 30 years of experience in the shipbuilding industry, it has always been a manufacturer's priority to improve safety, reliability, comfort, elegance and ease of use; these are all important aspects of everyday life and this is how they should be on vacation!
Technical data - Series 7:
Axes 2
Total length in cm 8,700
Usable length in cm 7,200
Total width / inside width in cm 240/225
Total height / interior height in cm 265/210
Mass of the unladen vehicle, approx. In kg 1,750
Weight in running order, approx. In kg 1,850
Technically maximum permissible total weight (kg) 2.800
Maximum payload approx. In kg 350
Tire size 185/65 R14
Bed dimensions in front in cm (oval shape) 230 x 160
Bed size in the middle in cm (extendable) 200 x 160
Number of berths 4
Fiamma - number of Heki roof hoods 3
Number of sockets 230V 11
Number of USB sockets 7
Dometic refrigerator / volume in liters of fresh drawer / 153l
Dometic underframe air conditioning Fresh well 3000
Thetford burner hob black Topline 169
Thetford cassette toilet C223-CS
Standard equipment:
1. Chassis
+ Alloy wheels
+ Broad gauge safety chassis with axle shock absorber
+ AL-KO smooth running chassis, fully galvanized
+ Low profile tires
+ AL-KO premium carrier
+ Premium stabilizer with soft dock
+ AL-KO Trailer Control - ATC
+ AL-KO Premium Break (automatic brake pad adjustment)
2. Life
+ Furniture decor
+ Upholstery options
+ Aluminum vertical support at the entrance
+ Huge sofa bed with an extra high backrest for optimal comfort
+ Sliding doors as room dividers
+ Table for round seating group
+ Indirect LED light band in the canopy (ambient lighting)
+ High quality floor
+ Centrally controlled lighting with dimmer
+ Smoke alarm
3. Kitchen and sanitary area
+ Dometic refrigerator (gas or 12 V ¹) or 230 V), with integrated light and freezer compartment
+ 3-burner hob with cast iron pan supports, ignition protection and stainless steel sink with glass cover
+ Stainless steel sink
+ Automatic mixer taps in the kitchen and laundry room
+ Cabinet with LED mirror and storage space in the bathroom
+ 12V LED lighting
+ 230V water heating
+ Cassette toilet
+ High-quality soft-close drawers
4. Power supply
+ 13-pin connector system
+ LED recessed spotlights (energy-saving, long service life)
+ Optimized power supply (constant brightness with changing light conditions, no flickering)
+ 50-inch flat-screen smart TV
+ USB connection socket
+ Electric underfloor heating
+ Hot water supply (in kitchen and toilet)
+ Fresh water tank, 100 liters, integrated in the multifunctional base
+ Water pipes laid next to the air circulation hose
+ City water connection
5. Air conditioning
The caravan can be adapted to your wishes inside and outside! The production time is 90 days from order.
For more information, see the following YouTube videos. If you have any further questions, please do not hesitate to contact us!
Technical description:
mostrar contactos
Derubis Caravans | Welcome aboard! | Not an ordinary Caravan!
mostrar contactos
Yacht-like Caravan, AMAZING price! Derubis Series 7
mostrar contactos
DERUBIS Series 7 / Wohnwagen wie eine Yacht / Monocoque / by ALBE Alliance GmbH /
mostrar contactos
mostrar contactos
A sales brand of the ALBE Alliance GmbH
Mostrar todo el comentario
Willkommen in der neuen Dimension des Reisens!
Die ALBE Alliance GmbH, als Generaldistributor der Marke DERUBIS freut sich Ihnen die aktuelle Weltneuheit zu präsentieren, den Wohnwagen DERUBIS Series 7. Durch sein einzigartiges Yacht - Design in hochwertigster Verarbeitung und Ausstattung fühlen Sie sich wie in einer Yacht auf Rädern!
Der luxuriöse, sichere und komfortable Wohnwagen! Aufgrund der fast 30-jährigen Erfahrung in der Schiffbauindustrie war es immer die Priorität der Herstellers, Sicherheit, Zuverlässigkeit, Komfort, Eleganz und Benutzerfreundlichkeit zu verbessern; das sind alles wichtige Aspekte des Alltags und so sollten sie auch im Urlaub sein!
Technische Daten - Serie 7:
Achsen 2
Gesamtlänge in cm 8.700
Nutzlänge in cm 7.200
Gesamtbreite / Innenbreite in cm 240 / 225
Gesamthöhe / Innenhöhe in cm 265 / 210
Masse des unbeladenen Fahrzeugs, ca. in kg 1.750
Masse in fahrbereitem Zustand, ca. in kg 1.850
Technisch maximal zulässige Gesamtmasse (kg) 2.800
Maximale Nutzlast ca. in kg 350
Reifengröße 185/65 R14
Bettmaße vorne in cm (ovale Form) 230 x 160
Bettgröße Mitte in cm (ausziehbar) 200 x 160
Anzahl der Liegeplätze 4
Fiamma - Anzahl Dachhauben Heki 3
Anzahl Steckdosen 230V 11
Anzahl USB-Buchsen 7
Kühlschrank Typ Dometic / Volumen in Liter Schublade Fresh / 153l
Dometic Unterbauklimaanlage Fresh well 3000
Thetford Brennerkochfeld schwarz Topline 169
Thetford Kassetten-WC C223-CS
Standard Ausstattung:
1. Fahrgestell
+ Alufelgen
+ Breitspur-Sicherheitsfahrwerk mit Achsstoßdämpfer
+ AL-KO Leichtlauffahrwerk, vollverzinkt
+ Niederprofilreifen
+ AL-KO Premium-Träger
+ Stabilisator Premium mit Soft Dock
+ AL-KO Trailer Control – ATC
+ AL-KO Premium Break (automatische Bremsbelageinstellung)
2. Leben
+ Möbeldekor
+ Polstervarianten
+ Aluminium-Vertikalstütze am Eingang
+ Riesiges Sitzsofa mit extra hoher Rückenlehne für optimalen Komfort
+ Schiebetüren als Raumteiler
+ Tisch für Rundsitzgruppe
+ Indirektes LED-Lichtband im Baldachin (Ambientebeleuchtung)
+ Hochwertiger Boden
+ Zentral gesteuerte Beleuchtung mit Dimmer
+ Rauchmelder
3. Küche und Sanitärbereich
+ Dometic Kühlschrank (Gas oder 12 V ¹) oder 230 V), mit integriertem Licht und Gefrierfach
+ 3-Flammen-Kochfeld mit gusseisernen Topfträgern, Zündsicherung und Edelstahlspüle mit Glasabdeckung
+ Edelstahlspüle
+ Automatische Mischbatterien in Küche und Waschraum
+ Schrank mit LED-Spiegel und Stauraum im Bad
+ 12V LED-Beleuchtung
+ 230V-Wasserheizung
+ Kassettentoilette
+ Hochwertige Soft-Close-Schubladen
4. Stromversorgung
+ 13-poliges Stecksystem
+ LED-Einbaustrahler (stromsparend, lange Lebensdauer)
+ Optimierte Spannungsversorgung (konstante Helligkeit bei wechselnden Lichtverhältnissen, kein Flackern)
+ 50-Zoll-Smart-TV mit Flachbildschirm
+ USB-Anschlussbuchse
+ Elektrische Fußbodenheizung
+ Warmwasserversorgung (in Küche und WC)
+ Frischwassertank, 100 Liter, im Multifunktionsboden integriert
+ Wasserleitungen neben Umluftschlauch verlegt
+ Stadtwasseranschluss
5. Klimaanlage
Der Wohnwagen ist Innen und Außen auf Ihre Wünsche anpassbar! Die Produktionszeit beträgt 90 Tage ab Bestellung.
Nähre Informationen können Sie folgenden Youtube videos entnehmen. Bei allen weiteren Fragen sprechen Sie uns gerne an!
Technische Beschreibung:
mostrar contactos
Derubis Caravans | Welcome aboard! | Not an ordinary Caravan!
mostrar contactos
Yacht-like Caravan, AMAZING price! Derubis Series 7
mostrar contactos
DERUBIS Series 7 / Wohnwagen wie eine Yacht / Monocoque / by ALBE Alliance GmbH /
mostrar contactos
mostrar contactos
Eine Vertriebsmarke der ALBE Alliance GmbH
Importante
Esta oferta es de carácter informativo. Para obtener más detalles, póngase en contacto con el vendedor.
Consejos de seguridad
Contactos del vendedor
Nenad Filipovic
Idiomas:
serbio, alemán, rumano, inglés
Alemania, Schleswig-Holstein, D- 254, Tornesch, Kleiner Moorweg 7
Hora local del vendedor: 02:25 (CET)
¿vende vehículos o maquinaria?
¡hagalo con nosotros!